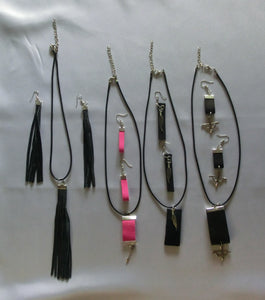 We Also Make Archery Themed Jewelry!
We're excited here at Fender Archery to FINALLY bring something on line that Annette and I have been working on for a LONG time!
We now make and sell handcrafted leather jewelry. Over the years we are always looking for jewelry and accessories and what not that reflect our love of Archery.
Much of our leather work leaves little pieces of leather left over that we never could bring ourselves to get rid of. Well we finally figured it out! Annette is taking pieces that are too small for our other work and working them into leather based jewelry, with many pieces that follow an Archery type theme.
All of the pieces are handmade of course and use the same quality leather as all of our other larger work.
What we have on hand now is up and available on the website under the collection heading "Annette's Corner". This takes you right to the beginning of the Collection:
https://www.fenderarchery.com/collections/annettes-corner
There will of course be additions in the future. We're still looking at new designs as well as some new jewelry making processes.
---
1 comment